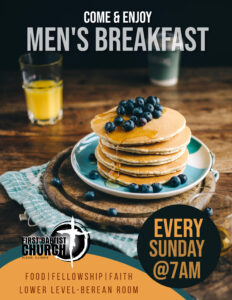 Sunday Morning Men's Breakfast
We've created a purposeful environment where you can enjoy a casual and relaxed time connecting with other men in our church, sharing some great food and conversation about our faith and how God is working in our lives. Invite a friend to join you!
The FBC Men's Breakfast is held every Sunday morning, beginning April 11th, at 7am in the Berean Room (lower level through Fellowship Hall). The breakfast is free but a love offering can be left. Questions, call Kevin Ricke.