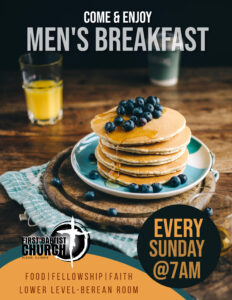 Sunday Morning Men's Breakfast
We've created a purposeful environment where you can enjoy a casual and relaxed time connecting with other men in our church, sharing some great food and conversation about our faith and how God is working in our lives. Invite a friend to join you!
The FBC Men's Breakfast is held every Sunday morning, at 7am in the Berean Room (lower level through Fellowship Hall). The breakfast is free but a love offering can be left. No need to sign up, just show up. Questions, call Kevin Ricke.