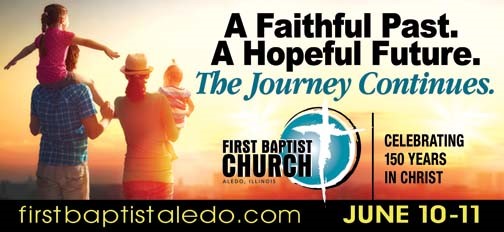 First Baptist Church Aledo will be celebrating our 150th Anniversary during special services on

Saturday, June 10th and Sunday, June 11th, 2017

.
Saturday, June 10th Celebration Servic
e at 6pm
Music, recognition of members, past staff and volunteers, and history highlights followed by an ice cream social. Nursery will be available for children ages 0-2 years old.
Sunday, June 11th Combined Worship Service at 9:30am
Special Worship Service followed by a catered lunch.
**We will not have an

8am

or

10:15am

service or

Sunday

School on

June 11th

. Instead we ask everyone to join us in the sanctuary at

9:30am

for a combined service. Kids ages 3 years old through 4th grade are invited downstairs at 9:30am for Kids Worship.
We ordered these cool tumblers in silver and copper and a variety of T-shirts to commemorate the BIG milestone! They are Yukon Tumblers. Built tough out of stainless steel with a double wall vacuum insulation and a copper lining. Keeps liquids cold for 24 hours and hot for 5 1/2 hours. The large ones are $12 each and the small ones are $10 each. We also have T-shirts for sale at $10 each. See all these items in our church lobby.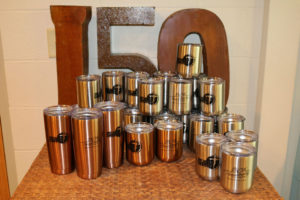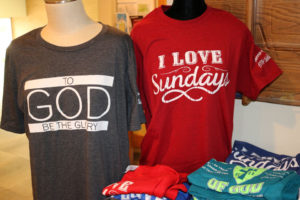 EVENTS & OUTREACH AT FIRST BAPTIST

ABOUT GOD
God is the creator and ruler of the universe. He has eternally existed as three person: Father, Son and Holy Spirit. these three are co-equal and are one God.

ABOUT JESUS CHRIST
Jesus Christ is the Son of God. He is co-equal with the Father and Holy Spirit. Jesus was born of a virgin and lived a sinless human life and offered Himself as the perfect sacrifice for the sins of all people by dying on a cross. He arose from the dead after three days to demonstrate His power over sin and death. He ascended to heaven's glory and will return again someday to earth to reign as King of kings and Lord of lords.

ABOUT THE HOLY SPIRIT
The Holy Spirit is co-equal with the Father and Jesus. He is present in the world to make men aware of their need for salvation through Jesus Christ. He also lives in every Christian from the moment of salvation. He provides the Christian with power for living, understanding of spiritual truth, and guidance in doing what is right.

ABOUT THE BIBLE
We believe that God has chosen to specifically reveal himself through the Bible. The Bible is God's Word to us. It is written by human authors, under the supernatural guidance of the Holy Spirit. It is the supreme source of truth for Christian beliefs and living. Because it is inspired by God, it is the truth without any mixture of falsehood.

ABOUT MAN
People are made in the image of God. People are the supreme object of God's creation. Although every person has tremendous potential for good, all of us are marred by a fallen sinful nature. Sin separates us from God and causes many problems in life.

ABOUT SALVATION
Salvation is God's free gift to us but we must accept it. We can never make up for our sin by self-improvement or good works. Only by trusting in Jesus Christ as God's offer of forgiveness can anyone be saved from sin's penalty. When we turn from our self-ruled life and turn to Jesus in faith we are saved. Eternal life begins the moment one receives Jesus Christ into his life by faith.

ABOUT ETERNITY
People were created to exist forever. We will either exist eternally separated from God by sin, or eternally with God through forgiveness and salvation. To be eternally separated from God is hell. To be eternally in union with Him is heaven. Heaven and hell are real places of eternal existence.
GIVE TO FIRST BAPTIST CHURCH ALEDO
FBC uses online giving so you can give anywhere, anytime online or on your phone.