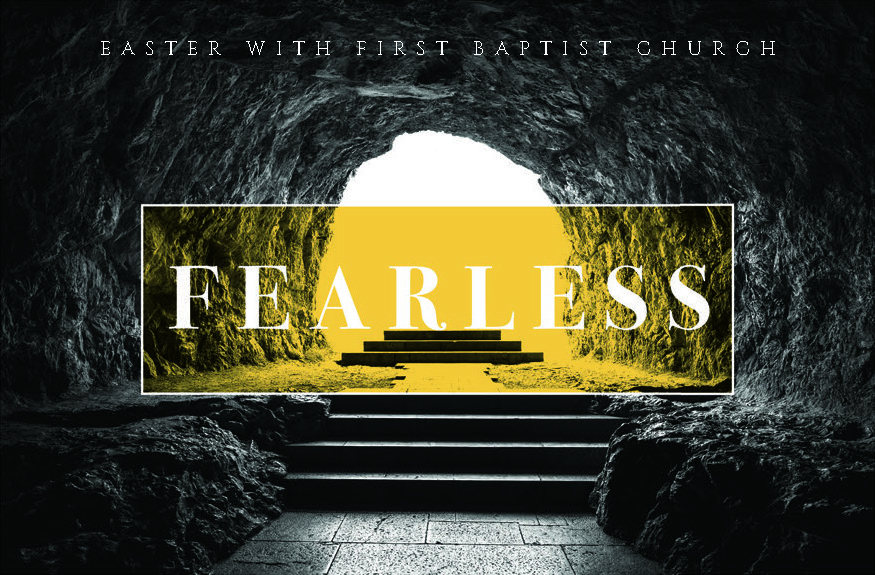 EASTER SUNDAY IS FAST APPROACHING
but as we all know, we are still uncertain about when things will get back to normal. So, for now, we are not planning our normal Easter Events or services. We are simply saying they are postponed. Our plan is to celebrate the resurrection of our Lord Jesus (Easter) in a big way once we can gather. It might be May or June, but we are committed to celebrating Easter together! Here are a few things to be aware of in the meantime:
"FEARLESS!" SHIRTS
Although our regular Easter programming has been postponed, we are still taking orders for our church-wide "Fearless" shirts. Sign-up below.
KIDS EASTER EVENT
Kids are invited to join Mollie on Sunday, April 12th at 9:00am for a special Kids Easter Event Live on Facebook at "First Baptist of Aledo."
We have special Easter Activity Bags available this week for pick-up outside the church front door.
WINDOW EGG HUNT
We need your help! We want to have a fun Window Egg Hunt for kids in Mercer County April 5th-12th!
All you need to do is hide a few Easter eggs in your windows for kids to spot as they're walking or riding past.
Use your own eggs & ideas or swing by FBC and pick-up a bag with eggs and a poster to display. Have fun with this & feel free to be as creative as you want. Thanks, everybody! Please spread the word!
*Bags are located outside the front door of First Baptist Church in Aledo (800 NE 6th Ave., Aledo).
JESUS PAID IT ALL
We have three crosses in front of the church. We invite you and your family, between now and Easter, to come to the Church, sanitize your hands, put your name on a sticky note, and use a thumb tack to put your name on one of the crosses. Take a picture of your family in front of the crosses and share it with us on Facebook.
VIRTUAL ENGAGEMENTS
We will have multiple virtual engagements this week while we are respecting "social distancing".
Tuesday at 6:30pm – Devo with Luke and Josh on FB Live

Thursday at 6:30pm – Maundy Thursday Service with the Dunn Family on FB Live. Everyone is invited to gather around their table with bread and juice to celebrate The Lord's Supper together.

Friday at 6:30pm – Good Friday Devo with Luke and Josh on FB Live

Saturday at 6:30pm – Live Worship Service on FB Live and the homepage of our website.

Sunday at 9:00am – Kids Worship Lesson with Mollie on FB Live

Sunday at 10:15am – Worship Service (recorded from Saturday night) will be played on WRMJ (102.3 FM). You are also invited to host a Watch Party with your family and friends on Facebook at any time on Sunday.
WE'RE HERE FOR YOU!
The whole world seems to be in the grip of fear! What does Fearless Faith in a time of uncertainty look like? How do we trust God when
everything is turned upside down? We are excited to share the hope
and confidence that knowing God brings to our lives. In any and every
circumstance God can be trusted! If you are looking for a refuge in
troubling times, God promises to be a fortress for anyone who will
look to Him through faith in Jesus. At

First Baptist

, we exist to help you
navigate faith and all the storms of life and to do it

FEARLESSLY

.