Wednesday Night Live is a series of classes & programs for the whole family designed to help you connect with others and grow in your faith. WNL takes place at First Baptist Church Aledo (800 NE 6th Ave) each Wednesday night from September 7th – November 16th, 2022 from 6:30-8pm.
WNL is open to the public so feel free to invite your friends and their families to join us. All classes and programs are free with the exception of the Dave Ramsey Financial Peace University which costs $60. Along with these adult classes which high school students can participate in, we offer Kids Club for kids 3 years old through 5th grade and Refuge Student ministry for 6th-8th grade. All nursery, kids, and youth check-in as a family in the church foyer from 6:15-6:30pm.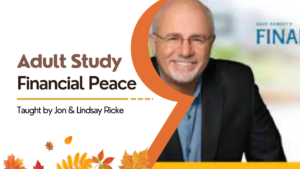 Financial Peace University
It's time to stop worrying about money! In Financial Peace University, you'll learn the proven plan to help you keep a budget, beat debt, and build wealth!
Sign up for this class is a two step process:
Pay for the class and start your 14-day free trial of Financial Peace HERE. Class cost is $59.99 (per couple or single).
Join the FBC group at the link below.
Please contact teachers Jon or Lindsay Ricke for any questions you may have. Jon 309-945-3804 or Lindsay 256-520-7910.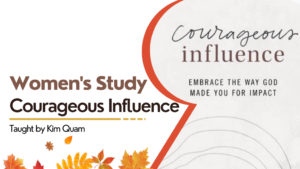 Courageous Influence – Women's Study
In today's social media-saturated world, the word influence conjures up images of beautifully curated Instagram feeds or women who lead from the stage and have thousands of followers. Influence has almost become synonymous with fame and power, and if we're honest, many of
us long to have it. But in its purest form, influence is simply the capacity to affect change on someone. It is the ability to impact others for a certain purpose. And from a biblical perspective, influence is the right and responsibility of everyone who follows Christ.
Courageous Influence will guide you in the journey of living the impact you were made to have through this six-session study. Let's turn the world's idea of influence on its head and become the courageous women of influence God calls us to be.
Courageous Influence will be taught by Kim Quam.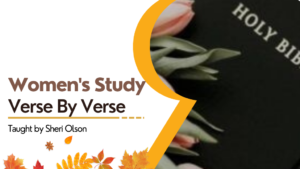 Verse by Verse Bible Study – Women's Study
This study is held off site at Laurie Louck's home. They walk verse through verse through the Scriptures. You only need to bring your Bible and a notebook. The address to the Louck's home can be found when you join the group.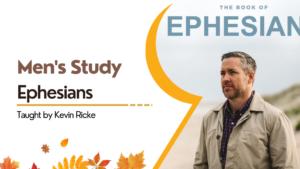 Ephesians by JD Greear – Men's Study
Has it ever dawned on you that nothing has ever dawned on God? He knew before the world began that His people would face hardship, so He gave us His Word. The Book of Ephesians is a survival manual—it equips believers to thrive in a world that hates the message of Jesus Christ. Paul the Apostle writes to encourage believers to live well—we've been lifted from the graveyard of sin and called to shout the gospel into the darkened world. Pastor and author J.D. Greear walks through the powerful words of Paul. In 9 sessions, J.D. digs into the text of Ephesians
verse-by-verse and challenges believers to live out the gospel. If the people of your city, of your school, of your family are going to hear the gospel, it's going to be from your mouth. Encounter Ephesians, and get swept up into the story of Jesus.
Ephesians will be taught by Kevin Ricke.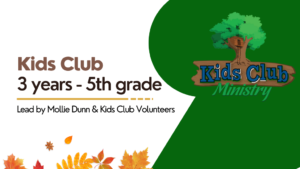 Kids Club
Kids ages 3-5th grade are invited to join us for Kids Club this fall from
Sept. 4th-Nov. 16th on Wednesdays from 6:30-8:10pm at FBC in Aledo. Check-in begins at 6:15pm and pick-up is at 8:10pm. (No early check-in's please, as the crew needs time to set up before kids arrive.) We're diving into the New Testament with Gospel Project and having lots of fun with friends, games, actvities, & snacks.
Please bring kids inside the lobby door (no door drop-offs, please) & grab your secruity tag when you check-in. You'll need to present the security tag when you pick-up kids. This is a free program and open to the community. Friends can join us any time. Let us know if you have questions!
Kids Club Theme Nights:
Sept. 21st: Dress like a Grandparent & Bingo w/ Prizes
Oct. 12th: Crazy Hair & Relays
Oct. 26th: Outdoor Movie Night
Nov. 16th: Escape the Zoo Party & Bible Memory Treasure Box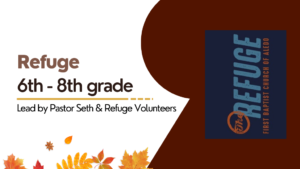 The Refuge
The Refuge Student Ministry on Wednesdays is for students 6th-8th grade. High School students are invited to attend the adult WNL classes. High School Refuge will continue to meet on Sunday evenings from 6-8pm.
Our goal is to make Refuge a safe place for all students to come and be themselves. Life throws us a lot of crazy storms but everyone needs a place to take Refuge from the storm. Our Refuge verse is Psalm 18:2 "The Lord is my rock and my fortress and my deliverer, my God, my rock, in whom I take refuge, my shield, and the horn of my salvation, my stronghold."
The Refuge staff and adult leaders work hard to greet and talk to every student that comes through the doors. We have adult leaders reaching out to the Refuge students for prayer, encouragement, and bible verses through the week. Bring your Bible, get ready for some games and enjoy the snacks as you come to the Refuge to hangout.
Are you new to The Refuge? Please take a moment to sign-up.